House Plans, Custom Home, Home Design
An old catchphrase used when someone comes into a house and leaves the door open is "were you born in a barn?" These days, with the surge in popularity of barndominiums, the answer to that question may truthfully be a resounding "yes."
Barndominiums have been steadily increasing in popularity since Chip and Joanna Gaines converted an old barn into a living space on their HGTV show, Fixer Upper. Then the COVID-19 pandemic hit and remote work proliferated, further driving the popularity of barndominiums among people who wanted to get away from the crowds. According to Google Trends Data, search interest for "barndominium" has consistently trended upwards with Texas leading the way and Oklahoma in close second.
The barn homes have risen in popularity due to a number of factors.
They are easy to customize while offering a wide variety of designs.
Many people like the farmhouse look.
They are durable and fairly low-maintenance.
Provide an opportunity to build one structure for both housing and a stable, shop or garage.
Found frequently across the southern states, barndos often serve as living space for both the family and livestock, particularly horses. But use of their extra space isn't limited to animals. These metal building homes can easily be built large enough to accommodate a business, space for hobbies, garages, a workshop, storage or anything else the homeowner needs or wants.
If you are planning to build and are exploring different styles of custom homes, the steel barndominium is definitely one to consider. These homes are especially popular if you are building on an acreage or in a rural setting. We'll take a look at the building process of a barndominium to help you decide if this is an option you want to pursue.
How long does it take?
The actual construction time to build a barndominium averages around six months and up. As they often begin as steel building kits, the rough framing of a barndo can be completed quicker than a traditional home of brick and mortar.
However, as with standard construction, there are a lot of steps and factors that will play a part in your timetable. You need to decide if you are going to hire a builder or try to do most of the work yourself, which can take considerably longer if you lack experience.
You'll have to choose a floor plan or custom design for the home. You'll make a final determination of size and square feet of the barndominium in addition to deciding things like the number of doors and windows you want.

Also on the task list are things like securing funding and insurance, ordering building materials, building a pad and foundation, utility considerations, permits, and subcontractors to hire (if you're doing the build yourself).
What is best, a DIY barndominium kit or hiring a builder?
There is no cut and dry answer as to whether you should hire a builder or attempt to build the barndominium yourself. So consider some of the pros and cons of each option.
Do-It-Yourself
If you are an avid do-it-yourselfer, or have construction or remodel experience and tools, you may believe that you can take a metal building kit and put together the home of your dreams.
You can buy kits that vary in their stages of construction. The cheaper the kit, the more work you will have to do and the more materials you will have to go out and buy. Springing for a more expensive kit will often provide everything needed for a particular plan. Although they may cost more at the outset, they should save you money by reducing missteps and wasted materials.
You will probably need to hire professional help at different phases of the project. Heavy machinery operators to help with rough framing, and licensed electricians and plumbers are just a few of the subcontractors you will likely need throughout the project.
A Custom Builder
If you lack the time, skillset, or desire to build your own barndominium, hiring a builder will be the best route for you. An experienced builder will be able to assist you throughout the entire process and will likely catch issues before they become problems. Also, using an approved builder may help you get bank or other construction financing.
A custom builder is experienced with the entire process of making a structure a home. Experience with critical components such as sewer/septic systems, plumbing, electric, the HVAC system, and brick/rock masonry are some of the benefits a builder will bring to the table.
The Process
You have secured the land or lot for your barndominium. You have decided who is going to do the build. You have obtained financing for the barndo. Now let's take a quick look at the actual building process.
Foundation
Assuming your land is cleared and the dirt work for the pad has been done, you're ready to lay the foundation. This step, including time for the concrete to cure, can take as long as four weeks or more.
While methods vary a bit, generally a form is built. Holes for the posts are dug to the appropriate level and forms prepared. Concrete is poured and allowed to cure. To give you a general idea of this piece of the puzzle, concrete reaches about 70 percent of its strength in seven days.
The use of steel posts anchored in concrete for the barndominium framing is what enables open floor plans and design flexibility. Using steel as opposed to wood means that load bearing walls aren't needed as frequently as in traditional construction.
With flat ground, monolithic concrete slabs are common. As the perimeter bears most of the weight, the footing there is thickest. The perimeter can be up to three times as thick as the interior pad.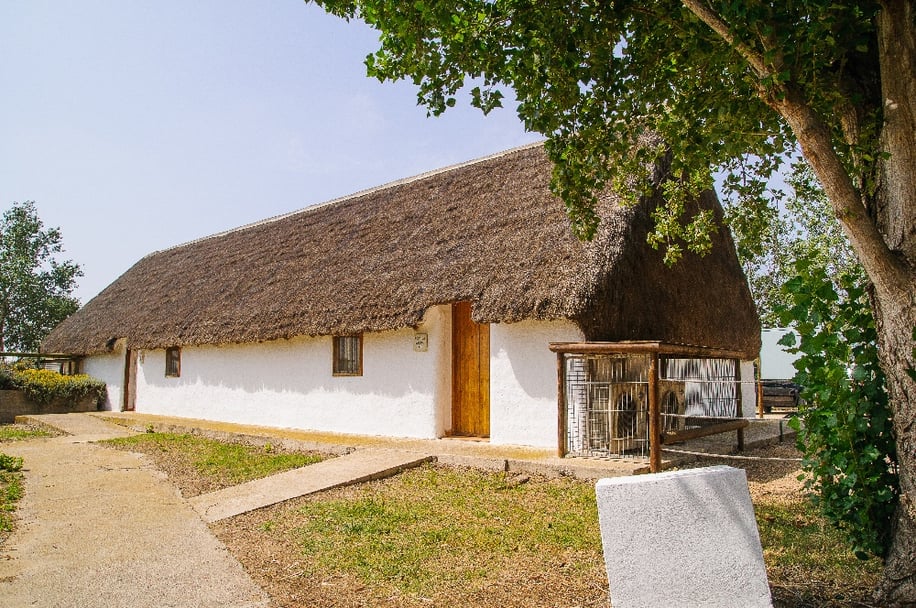 Framing
Rough framing will include the frame, outer walls, sub flooring, siding and roofing.
Barndos are usually built using steel frames and girders (beams). While they require less work than wood frames and studs, they are much too heavy to be hoisted by hand. Cranes are typically used for this part of the project.
Interior framing is fairly similar to the steps used to frame a traditional house. Both have wood stud frames throughout and barndominiums often have wood framing along the perimeter that is attached to the metal framework. The use of wood here makes it easier to install drywall and insulation.
At this point, a metal roof is usually installed as is guttering, windows, and fascia caps. From the outside, it may look like construction is nearing completion.
Utilities and Amenities
Similar to building a traditional house, you will need to install utility systems. If you are building in a rural area, you will probably need a well and septic installed, and possibly a propane tank and lines. Depending on how your barndominium is to be heated and cooled, you will need to install an HVAC system or other such solution. Plumbing and electrical lines will need to be routed and installed following established guidance and rules.
Insulation
Depending on the barndominium design you have selected to build, wall thickness may vary. Before drywall is hung, fiberglass batting insulation can be used. Lower floors that use 2" x 6" studs allow for 6.5 inch R-19 fiberglass batting insulation. Upper floors finished walls will sometimes be at 4.5 inch thickness allowing for R-13 fiberglass batting insulation. Spray foam insulation is an option that can be used after the drywall is hung. Don't skimp on this step as it will directly impact the energy efficiency of your home.
Finishing
At this point in the game, you're finally getting to the fun part, the finishing touches. Your building is rapidly becoming a home.
Wall covering is installed now. Most use drywall, but a lot of barndominiums feature rustic or farmhouse styles and incorporate stone or brick work, shiplap, or even logs. Painting is next and wallpaper has even made a bit of a comeback. When the walls are done, flooring is installed and then trim work is completed.
It's also a good time to turn your attention to the outside and do some landscaping and hardscaping. Laying sod or sowing grass seed, planting shrubbery, trees, and flowers will complete your look. You may want to install patios, decks, sidewalks, firepits, or water features. Use your imagination to create your perfect home and outdoor space.
Other considerations?
Depending on your specific plans and circumstance, there will be other things to consider as you build your barndominium. If you plan to house your horses in part of the space, you will need to build stalls, a tack room, hay storage, wash racks, blanket rooms, and so on. If you go this route, you want to take steps to ensure adequate ventilation, sound proofing, and fire prevention and suppression measures.
And early on, make sure you check into local ordinances and zoning regulations. You will want to make sure you aren't restricted from building a barndominium or know if you have to meet any size requirements.

Take our checklist to your home builder interview!
As you prepare to interview builders, make sure to download our free handy checklist "10 Questions to Ask a Homebuilder". We've put together a great list of questions to help you select a builder who will work to build your dream home or barndominium!
5 minute read