The Internet is vast, but you don't have to search very far to find scathing reviews from frustrated UBuildIt customers. And it's not hard to understand why.
UBuildIt is not a home builder. It is a franchised consulting business. Based on the Yelp reviews of UBuildIt Oklahoma City, if you already have a moderate amount of building and construction experience, then UBuildIt might be a good choice. Otherwise, you should be careful. Complaints include budget surprises, poor customer service, and lack of onsite presence.
So, when it comes to choosing an Oklahoma home builder to help make your dream home a reality, do you really want to leave it to chance?
Probably not! Here are 3 big factors you should consider when building your own custom home in Oklahoma.
#1: A "Cookie Cutter" Mentality Doesn't Cut It.
Whether you know exactly what you want down to the very smallest detail or need help fleshing out your vision, you need a builder who can meet you where you are with the experience required to address your specific needs.
There's no shortage of horror stories about short estimates, unforeseen drainage issues, and improperly documented floodplains. If you're building on rural land, you'll need an Oklahoma home builder with experience in bringing utilities to such locations.
A one-size-fits-all builder likely won't want to take the time to understand all the complexities of your custom home build; the necessary planning to avoid nasty surprises down the road is not guaranteed.
If a builder just wants to talk in terms of price per square foot, dictating to you what you should want in a home, rather than listening to your ideas and concerns, he or she might not be the builder for you.
A home designer with this kind of transactional mindset may try to sell you unnecessary upgrades. They could even abandon the project if challenges arise, leaving you holding the bag.
Look for a builder who actively seeks your opinions, respects your ideas, and focuses on solutions so that you end up with the custom house of your dreams that fits your budget.
If you're purchasing land, look for a builder who understands that the land itself is as unique as the custom home you hope to build. No two pieces of land are alike— each presents its own challenges. If you use an inexperienced builder (or consultant such as UBuildIt), you could be opening yourself up to headaches down the road.
#2: You Want to Focus on Building Your Dream, Not on Financing It.
Securing financing is obviously one of the first and most critical parts of the design-build process. What many buyers don't know is most construction lenders look more favorably upon applicants who use a reputable builder.
If a custom home builder (or consultant) has a poor reputation and many genuine unsatisfied customers, who've filed complaints, you're setting up one more barrier to financing your dream home. Ask if your builder is a member of the National Association of Home Builders, and don't forget to check out home builders associations in your area. To our knowledge, there is no National Association of Home Builder Consultants.
It's important to use a reputable builder who has invested time and effort to build strong relationships with lenders. If you've got less-than-stellar credit, using a builder who can refer you to resources like credit repair and financial specialists can keep the process moving forward.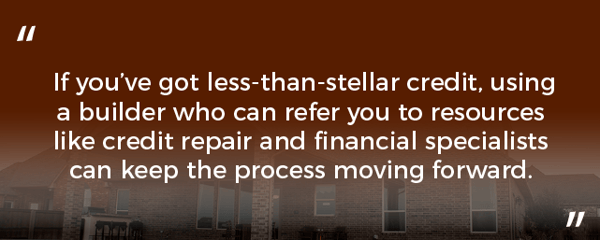 #3: Customer Service is Key.
A custom home design and build project is one of the biggest, most personal projects you'll ever take on. If your builder views you as a partner rather than as a one-off customer, you're more likely to get access to guidance throughout the process, not just at the beginning as they're trying to win your business.
Imagine you've got questions only your custom home builder can answer. You've texted, called and emailed, but you still haven't received a response. What if you do reach someone, but it's clear they are unfamiliar with your plans and haven't visited the site recently (if ever)? Will you feel that builder actually cares about you, your family, and the home you'll live in for years to come?
From preparing initial budgets to the moment you start living your dream, a builder should commit not just to building a quality home that reflects your personal vision, but to ensuring you feel comfortable throughout the process.
Not willing to take a chance with your builder? We invite you to visit Turner & Son Homes. Since 1964, we've built our reputation as the most reputable Oklahoma home builder. We'll guide you every step of the way until we hand you the keys to your dream home.
3 minute read