Buying Land, Budgeting, Blog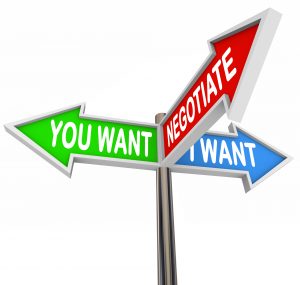 You've found that perfect piece of land for your forever home, and now it's time to negotiate the purchase with the seller. Trouble is, the land is priced well above market value. How do you negotiate the price down to market value?
Try these tips for negotiating a land purchase.
Start with the right mindset
All you want to do is buy the land for what it's worth. Don't try to steal it. Going into the deal with a fairness mindset will help you see the transaction from the seller's perspective, which gives you a leg up on the negotiation from the very beginning.
We've seen many buyers go after the steal price on land, and we've seen plenty of them lose out on the land they really wanted because of it. They start out with a low ball offer, and then while negotiations are going back and forth, someone else comes in with a higher offer and gets the land. Sometimes a buyer finds an even better piece of land, but often they end up settling for something that wasn't their first pick.
Do your due diligence
Check out all the land details you can find: zoning, flood plain, access, topography, vegetation, etc. These are all factors that play into the usefulness of the land. Arm yourself with dollar figures for what it will cost to prepare the land to build. That dollar amount has a huge impact on what someone can pay for the land without being upside down from the very beginning.
Check out some articles on what factors come into play, such as key things to consider when looking for land, avoiding getting landlocked, and bringing utilities to rural land. Also, check into land values of surrounding property to see what the per-acre sale prices have been lately. Make sure to compare apples to apples for similar property types. Don't compare residential or agricultural zoning to commercial, as that won't help you.
Let the seller know you're serious
Make an offer in writing, preferably on a state-approved form, accompanied by an earnest money check. It's best to use a real estate agent who is familiar with land transactions to help with this. There are some pitfalls, and an experienced real estate agent can provide a safety net to protect you from many of them.
Always be respectful
If you do make an offer in writing, take the time to write a short note to the seller explaining your thoughts on why your offer is fair. Be complimentary of the land and keep in mind the seller likely has some emotional connection to it. Many times, if a land owner feels that the land will be going to a family who can appreciate it, they'll be more willing to come down on their asking price.
Think about reasons the seller might be selling, and take a walk in their shoes to think of creative ways to make the deal. Other factors might make a lower price more attractive to the seller. Maybe a quick closing means more to them than a higher price. Maybe the seller would be interested in financing the transaction, which allows you to make payments to them the way you would pay off a bank loan.
Needless to say, there are many ways to get a deal done. The main thing is to put yourself in the seller's shoes to find his or her hot buttons and make an offer that pushes those buttons in the best way possible.
2 minute read