House Plans, Custom Home, Home Design
A quick look at the history of homeschooling shows that the lack of educational infrastructure drove early settlers in our country to homeschool their children. However, once schools were established, its popularity waned somewhat until the 1970s when John Holt began voicing his opinion that classrooms had become oppressive. As its popularity began to return, homeschooling was officially recognized as a legal option in all 50 states in 1992. Fast forward to early 2020 and the COVID-19 pandemic provided the impetus for an explosion in homeschooling.
As schools went to remote learning, parents scrambled to clear an existing space in their homes in which to set up a homeschool area for their kids. While many children have since returned to the classroom, the percentage of kids being homeschooled has nearly doubled since the beginning of the pandemic.
If you've created a classroom setup in your existing home, that's great. But if you plan to build a custom home, the design process provides the perfect opportunity to make school work more comfortable and convenient by including classroom space in your new home.
Benefits of designing a custom homeschooling room
An individual family's space needs will depend on their family structure. Based on the number of kids and their age range, you may actually need more than one homeschool space. And while lots of people homeschool without a dedicated room, it isn't an ideal set up. Distractions take away the kids' concentration and you probably don't want a whiteboard in your living room or school supplies taking up permanent residence on the dining table. A dedicated space will go a long way in avoiding these conflicts.
To provide the best educational experience possible, the homeschool room setup should be similar to an actual school room with desks/chairs, school supplies, and storage spaces. But that doesn't necessarily mean the home space has to be a mirror image of a classroom.
Including a specific homeschool learning area has some distinct advantages.
It helps kids understand that learning is important and that you have expectations they need to meet.
It keeps supplies and work papers in a specific location and out of the rest of the house.
It allows for fewer interruptions which in turn improves focus for both the child and parent/instructor.
When planning to include specific rooms, you should speak with your builder to make sure they allow you the flexibility to customize your home the way you want. By creating a dedicated homeschool learning space, you may need to make specific accommodations such as additional electrical outlets, lighting, or external doors.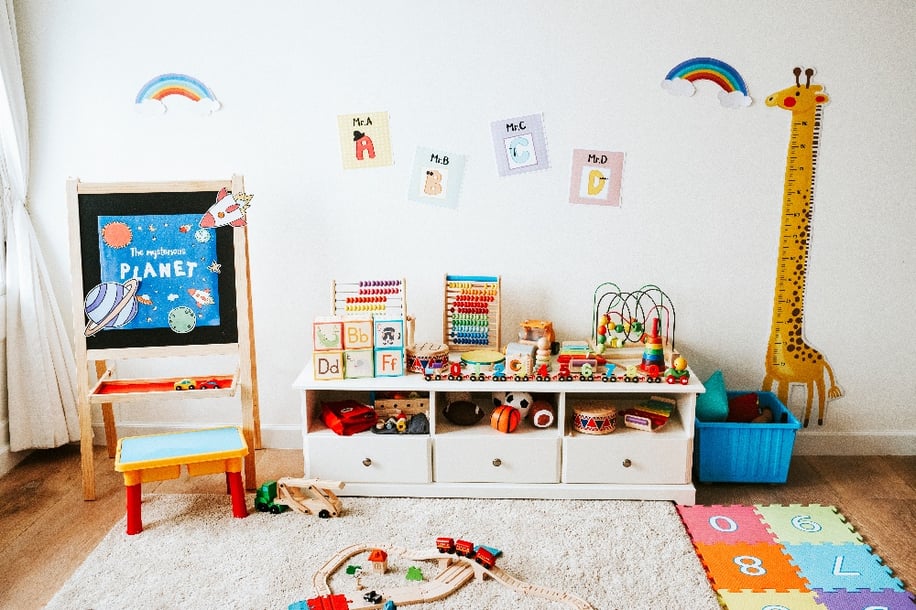 Balancing functionality and creativity
When designing your inspiring homeschool room, you want the space to be functional but also inspire creativity. You want it to serve as a classroom, but you also want it to be comfortable and a place the kids look forward to working in daily. To achieve this balance, you should consider these questions.
How many kids? What are their ages, school year, and educational needs? The answer here will go a long way toward determining the room's layout. In school classrooms, kids expect their own desk and locker or storage bin. If you push them together at home and don't provide ways to separate belongings, chances are that disagreements will erupt. And placing really young kids in close proximity to older kids will likely cause deeper issues.
What kinds of activities will they be doing? Do you need an arts and crafts area?
What kinds of supplies will they need? How will they be stored? Homeschool room organization plays an important role in the design.
What are the furniture needs and size requirements? Do they simply need a homeschool desk and chair? Can young children sit comfortably in adult chairs? Have you considered that bookcases make great dividers between desks?
What are your thoughts on incorporating a reading nook with a bean bag chair, blankets, books, and extra lighting?
Do your walls need extra support for hanging heavy items?
If you have hardwood floors, have you thought about using various area rugs that are suitable for the area in which they are used?
Do you have decor ideas? Are your home decor ideas conducive to education such as world maps, periodic tables, anatomy diagrams, or numbers charts?
If you are looking for homeschool room ideas for small spaces, have you considered space multiplying options such as multi-purpose furniture, roll-away carts, and storage bins?
Have you thought about including built-in shelving and cabinetry in your custom home design?
Outdoor access
Does the room easily access the outdoors? This can be useful for outdoor activities such as science experiments, looking for leaves or bugs, or simply moving class outside on a beautiful spring day.
Wall Space
Don't forget to utilize the walls in your homeschool learning efforts. Definitely hang a clock and calendar. In addition to their obvious uses, these two items can be utilized to teach young children how to tell time or mark significant dates. Hang cork boards, monitors or televisions, whiteboards or other educational or student art work. A great project for the DIY homeschool room is painting a wall with chalkboard paint for lessons, reminders and drawings. For other walls, paint colors that encourage creativity like yellows or blues.

Electrical outlets
The one thing lamps, laptops, phone and tablet chargers, printers, shredders, and pencil trimmers all have in common — the need for electricity. You need to have ample electrical outlets and wiring for the number of kids that will be attending homeschool. Being able to control this is one of the biggest advantages of designing your own homeschool room in your custom home.
Table space
The kids' ages/grades and space needs will play a determining factor here. Another consideration is whether you want desks, one communal table or individual tables for each kid. How homework stations are laid out is an important consideration in what kinds of lessons can be taught.
Storage
Keeping your supplies, paperwork, tools, and books neat and organized is one of the keys to successfully homeschooling. Use a combination of drawers, shelves, storage bins, crates, curtains, screens, built-ins and tubs to keep materials neat, handy and organized. Color code your storage system to make it even easier. And finally, have readily available trash containers to keep work stations neat.
Education for the win
We've discussed designing a homeschool room, why it's an important part of your home and things you should consider when adding the room to your custom home.
When you're looking for someone to build your dream home, we encourage you to consider Turner & Son Homes. Whether you need help designing a homeschool room or custom kitchen, we have more than 50 years of successful home building experience that we can put to work for you.
Be prepared and take this checklist along to your initial home builder consultation
Download our free checklist "10 Questions to Ask a Homebuilder" and take it when you meet with a custom home builder. It will help as you decide if they are the best fit to build the home of your dreams!
Get your download here.
4 minute read