House Plans, Custom Home, Home Design
The most utilized room in the house, the kitchen, is also the heart of the home. Whether it's used for daily meals, party preparation, future chef training or just a central meeting spot, a custom kitchen should be designed to meet any and all of a family's needs and wants.
Famous chef Julia Child once said, "the more you know, the more you can create. There's no end to imagination in the kitchen." Of course she was referencing food preparation. However, those exact words could be used to describe Turner & Son Homes' ability to create functional, beautiful kitchens. We have more than 50 years of custom home building experience, giving us the know-how to make your dreams a reality. Combine our experience with your imagination, and we can create your perfect custom kitchen!
As you start working through the process of planning and designing your custom home, we encourage you to put extra focus on high-traffic spaces like the kitchen. As food for thought, we've put together options that should be considered as you decide on the functionality, layout and design of your perfect kitchen.
Determining Style
The first thing to decide is the overall style of the kitchen. At this point, don't get bogged down in design details like paint and hardware. You need to decide what you want the overall look to be for the kitchen. Whether you prefer a kitchen that harkens back to an early farmhouse or something sleek and modern, now is the time to decide as your preferences are key to the design's success.
The choice between a traditional, transitional or modern design will set the tone for all of your subsequent decisions. You also need to make sure your home builder allows the level of customization you want to make your kitchen uniquely your own.
Traditional, modern, or transitional design?
Kitchen design ideas basically fall into one of three categories: traditional, modern or transitional. With each style, livability is one of the key drivers as the design should revolve around lifestyle and functionality.
Traditional designs incorporate Old World Style features that originated from as early as the 18th century on through the early 20th century. Also known as Period Kitchens, they gravitate toward ornamentation with crown and base moldings, detailed ranges, custom range hoods, decorative lighting and other Victorian type features. Counters tend to be stone and tile with the use of a lot of natural materials due to those materials being readily available. Kitchen cabinets are made with a variety of woods, but are mostly in dark tones. Cabinetry typically has inset doors with raised center panels and moldings. Sometimes glass fronts are used. Many people gravitate toward hardwood flooring in the kitchen. You can either match, contrast or complement your cabinet color and grain. Just make sure the wood tones are the same so they don't clash.
Modern design incorporates a minimalist feel by using open spaces and clean, architectural lines. Drawing from the Art Deco design of the 20s and the Mid-Century design of the 50s and 60s, modern design features range from natural light wood finishes and hues to white cabinets. Cabinetry is sleek and compact often using laminates, glass and metal components. Color schemes range from largely white kitchens to a combination of colors and hues. Minimalism is key to this design and often compact appliances and furniture are incorporated. Granite countertops are popular with this style as is solid flooring.

Transitional design is a blend of traditional and contemporary styles. A recent article in Better Homes & Garden notes that the transitional kitchen, with its versatile style that complements the popular open concept home, is currently the most popular style of kitchen being built. This design utilizes simple color palettes with white being the most popular followed by other neutrals like gray, beige and wood tones. Space is free of clutter with the design relying heavily on lots of storage and cabinetry. Wood and painted wood cabinets are featured with clean lines and recessed-door panels and quartz countertops. Kitchen islands often feature waterfall countertops to lend a hand to the clutter-free design. Stainless steel or paneled surface is popular for appliances. Range hoods are typically built in to blend in and not stand out as with the traditional design. Hardwood and wood-look flooring with a runner or rug in complementary tones is popular with this design.
What kinds of cabinets?
The overall design of your kitchen will help narrow your choices for cabinetry. Establishing your preferred color palette and selecting flooring makes choosing cabinets to fit the design much easier. Some of the more popular cabinet designs include:
Shaker — Often used in traditional kitchens, Shaker style cabinets are one of the most commonly used today. Made from high-quality wood, they consist of five flat-panel pieces: a four-piece frame and single flat center panel.

Slab or flat-panel — These flat-panel cabinets are great for modern

cabinets you want.

kitchens. Sleek, stylish, minimalist with hard lines, they don't have any frames.

Inset — With a classic look, these cabinets are precisely measured to feature an inset door set inside the cabinet frame. Requiring such attention to detail doesn't come cheap as they are some of the most expensive cabinets available. However, if the idea of a complete kitchen remodel makes you cringe, you may want to consider investing in this style. Their classic look is timeless and can be personalized with inserts.

Louvered — mimicking the design often seen on wood shutters, louvered kitchen cabinets feature horizontal wooden slats. As the slats provide ventilation, these cabinets are good for pantries, laundry areas, any space requiring ventilation.
Thermofoil — made from medium-density fiberboard wrapped in plastic coating and heated to be sealed. Mass produced, these cabinets are fairly inexpensive and come in only solid colors, but are durable, easily maintained and moisture resistant. Their biggest drawback is their lack of heat resistance so you can't place them close to a heat-producing appliance like an oven.
Custom — If none of these cabinet types are what you want, you can always go the custom route. Your home builder may be able to put you in contact with a craftsperson who can create the exact cabinets you want. At Turner & Son we put our focus on custom cabinets to ensure you get the exact kitchen you envision.
What kinds of countertops? Stainless steel? Granite?
Selecting your countertops is an important next step. One of the most visual elements in your kitchen, countertops are also one of the most used and abused. You should consider not only your design and style, but needed functionality.
Whatever countertops you select need to hold up too many years of use including meal prep, spills, strikes from dropped items and the list goes on. Options include marble, tile, stainless steel, quartz, laminate, granite, butcher block, concrete, soapstone and solid surface. Each option has its own set of unique characteristics and traits. You will need to determine which characteristics are most important to you when making a final decision.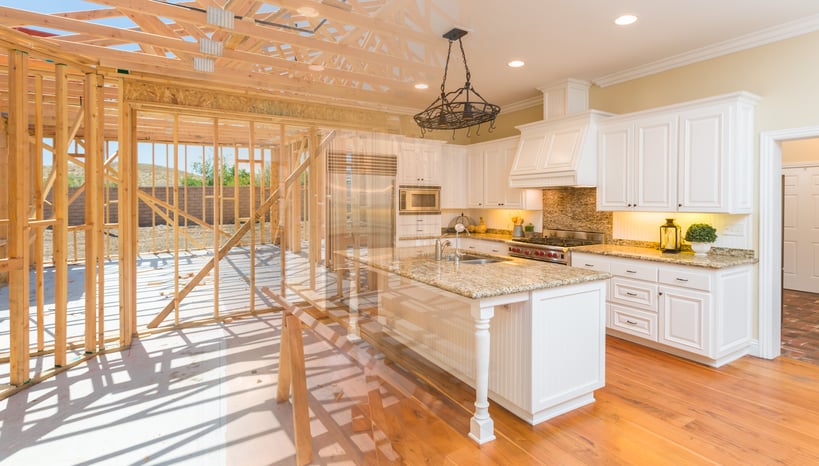 Determining Layout
The floor-plan of your home often presents the best layout option for your kitchen. However, if you are still in the negotiating phase with your builder and haven't finalized plans, you may want to consider the most common kitchen layouts. If you feel strongly about a specific layout, early in the process is the best time to communicate that with your builder.
Island Kitchen
The island kitchen is a very popular choice in open-plan homes. Providing extra storage and additional work spaces, the island can provide a prep surface while concealing the garbage compactor, wine cooler, additional storage or any number of other features. With the addition of some wooden stools, it can serve as a gathering spot for meals.
Peninsula Kitchen
Similar in approach to the island kitchen, the peninsula incorporates a kitchen counter that juts out from the cabinets or wall. It works for smaller areas that can't accommodate a full island but serves many of the same purposes.
One Wall Kitchen
A simple layout for smaller kitchens or kitchens in an open floor plan, this design features a single wall along which all cabinets, counters and shelves are arranged. The clean look provides functionality and efficiency while potentially incorporating the kitchen space into another part of the home.
Galley Kitchen
This economical design is aptly named after kitchens found aboard ships, trains or aircrafts. Featuring two rows of facing cabinets, an inner passage or galley is created and corner cabinets are eliminated.
L-Shaped Kitchen
This layout works well regardless of kitchen size. With cabinets placed along two perpendicular walls, it does utilize deep corner spaces. However, note that there are many cabinetry solutions available to make use of this hard-to-reach space. This open floor plan allows for a lot of flexibility in regard to placing appliances.
U-Shaped Kitchen
If you have a larger kitchen, this may be the layout for you. With cabinets along three adjacent walls, you will have plenty of storage. To avoid feeling closed in, you may not want to put upper cabinets on all three walls. Open shelves, a pass-through or other design elements are possible work-arounds for one wall.
The More You Know, The More You Can Create
We hope you found this information helpful as you work toward creating your dream home. While this particular blog focuses on kitchens, we also highlight other rooms, such as the homeschool room. Our goal is to make sure you have as much helpful information as possible as you go through the custom home building process.
You can be assured that at Turner & Son Homes, we will work hard to make sure you get the style, features and functionality you want, at a satisfactory price. Our many years of experience and long list of satisfied customers give us the confidence in our ability to create your imagination!
Keep Your Checklist Handy!
Before you meet with a builder, make sure you download our handy checklist "10 Questions to Ask a Homebuilder." It will provide great insight into finding the perfect fit!
Get your download here.
6 minute read