The Story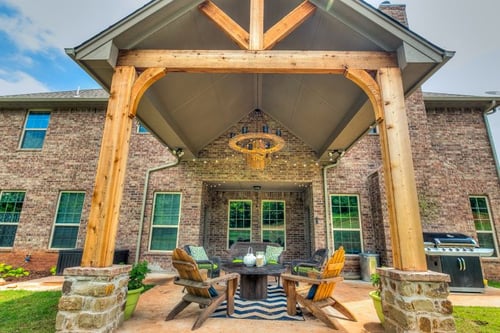 For Mandy and her family, it was finally time to create the home of their dreams, instead of living in a home that had been built around someone else's dream. She and her husband, Todd, had been collecting ideas for years, and they were ready to see those ideas in their new home.
Todd is very creative, so we helped him let his creative side soar without breaking the bank. We based our design off the lifestyle of Mandy's family, making sure to stay within their budget while creating a space that would be flexible enough to grow along with the kids.
Big, open, space for lots of guests, without crowding the kitchen
Awesome "owner's retreat" for when mom and dad need a break from the kids for a while
Lots of outdoor living space for grilling, hanging out, watching the game, or playing with the kids and the dogs
Boat garage for, well, the boat! Saves a few thousand bucks a year on storage (which is a pretty great way to justify it!)
Two-story design so the kids can have their own space—since the first floor already had a slab, foundation, and a roof, the second floor comes at a steep discount.
The end result is a beautiful custom home that lets Mandy and her family enjoy each other and find space when they need it, with lots of flexibility for changing needs as the kids grow.