With the changing fads in home decor, accent pieces, and yearly trendy colors to choose from, timeless home design styles and design elements are on the rise. Classically designed large-scale floor plans are becoming more sought after than trendier options. If you're a fan of real estate shows, you've probably noticed that many homes now feature white kitchens, natural fibers, and classically designed elements.
---
What is timeless home design? If you're planning your dream home, certain classically designed pieces that stand the test of time could be an investment. In this blog, you'll learn more about timeless home design and how it can be elevated by your personal style.
What Is Timeless Home Design?
Timeless home design can span from your home's facade and exteriors to the interior finished and even decor. For example, a timeless home design choice is showcasing stone, rock, wood, or brick on the outside - all of these are considered timeless choices. The farmhouse style is considered classically designed because of its use of wood (or siding that resembles wood) along with its landscaping of stone and brush.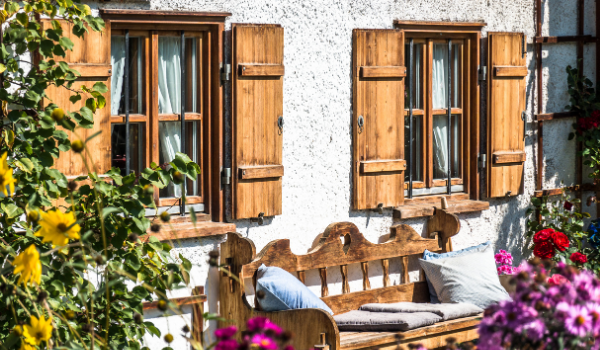 Classically designed home decor includes the use of natural fibers and colors, as well as design elements and accent pieces that won't go out of style any time soon. Timeless designs are great choices for homes because they give you great freedom of choice for decorating and accessorizing. For example, in white kitchens, you can bring in various accent pieces in a trendy color to change the look at any time. You could do this in the living room as well. Instead of renovating an entire room or the entire inside of the home, you can make small changes to achieve a whole new look. When you have a timeless style, a single new piece of furniture can do quite a bit to elevate the look and express your individuality as well as improve the functionality of the space.
What Kitchen Cabinets Are Timeless?
Classically designed kitchens can be breathtakingly beautiful. And, as mentioned, you can use accent pieces that bring in your style to change the look over and over again. When you're designing your home, you may wonder which kitchen cabinets are timeless. This is an important consideration since putting in new kitchen cabinets in the future can cost anywhere from $2,000 to $24,000, depending on several factors. One of those factors, of course, is what you like. Because kitchen cabinets can be hard on your budget, we love classically designed looks! Here are a few that you might enjoy:
Flat-fronted cabinets. Flat-fronted cabinets can be glossy on the front or have a matte finish. They do not have pulls or handles.
Mission cabinets. Mission cabinets come in a range of colors. They have a recessed middle and a frame that surrounds them. The pulls can significantly change the look and feel of the cabinet, and you can express your style and even change them without making a big investment.
Raised panel cabinets. Raised panel cabinets are similar to mission by having a central piece and a frame. However, the central piece is raised. Much like the other cabinets, they come in a wide variety of colors and finishes.
Beaded kitchen cabinets. Beaded kitchen cabinets are commonly found in farmhouse designs. They have a similar look to mission cabinets except that the middle panel has vertical lines running through it. They are more decorative. This style is also commonly found in white kitchens, since the texture adds visual interest.
What Decorating Style Is Timeless?
Timeless home design and home decor both rely on design elements that are classically designed. They are generally based on neutral colors as opposed to the Pantone Color of the Year. If you choose timeless design architecture, your home will be built to last and aesthetically pleasing. From a cost perspective, timeless home design is more efficient: instead of relying on fads that will leave your home looking "dated" in a few years, you can have a timeless look that you can update with accent pieces or new landscaping. As your tastes change over the years, it can be much easier and more cost-effective to redecorate a timeless design for continued curb appeal.

Timeless home decor is about choosing pieces of furniture for the living room and other spaces within the home that will continue to look great despite changing home decor trends. Some timeless design trend examples include:
Symmetrical designs. Our eyes are naturally drawn to things that are symmetrical. Consider setting doors, windows, or other architectural features in pairs - you can always break the symmetry with paintings, cushions, and decor, while keeping an even canvas.
Accent focal point. Consider emphasizing the symmetry with a central focus such as a chimney, mantelpiece, or staircase.
Simplicity. Timeless designs are focused on their beautiful simplicity. They are not caught up in trends and fads. Well-designed elements stand the test of time.
Why Choose a Timeless Home Design
A timeless home design remains beautiful throughout the years. It does not fall prey to changing fads. It is more cost-effective over time to have a timeless design because changing its look is as simple as updating a piece of furniture or changing accent pieces to the living room.
Timeless styles simply feel like home.
How Do You Build a Timeless Home?
To build a timeless home, first, you must think about the style and the design elements you love. Do you love the craftsman look? Do you love the farmhouse style? Which timeless home feels like home to you? This is the most important question to ask because you're choosing a timeless home design as your dream home.
Then, think about home decor. What are your favorite natural fibers? Do you like white kitchens or would you prefer to go with stone or tile? What about your living room? What accent features would you like to use for your home to showcase who you are?
Designing and building a timeless home is all about choosing the architectural and home decor design elements that you love and that will also stand the test of time. Once you've chosen the timeless designs that feel like home to you, it's time to find the right builder.
The right builder for your timeless home design understands your vision and your budget. They aren't looking to push you into doing more than what you want to do. They know that your timeless design is just that: timeless and yours. Look for a fixed-cost builder who can help you stay within your budget while creating the beautiful timeless design of your dreams.
As a custom home builder, Turner & Son wants to help you realize your dream of building the perfect classically designed home on a budget. We pride ourselves on getting to know our clients and their desires while bringing their design dreams to reality. To learn more about how Turner & Son can help you!
4 minute read