House Plans, Custom Home, Home Design
Designing the right learning environment is crucial for homeschool learning. You decided on a homeschool classroom to create the best possible learning environment for each of your children. Now, the next step is to determine which homeschool classroom ideas work best for a home school space.
Because homeschooling is about both the ability for you as a parent to choose your curriculum and the way you teach your children and meeting the individual educational needs of your children, setting up a homeschool space is exciting as well as important. In this article, you'll learn more about why you need to set up a homeschool classroom, how the ages and educational needs of your children can impact the learning environment you want to design, homeschool room setup ideas for small spaces, ideas for homeschool organizations, why it is important to have dedicated classroom space for homeschooling, and how you can bring your homeschool space dreams to reality!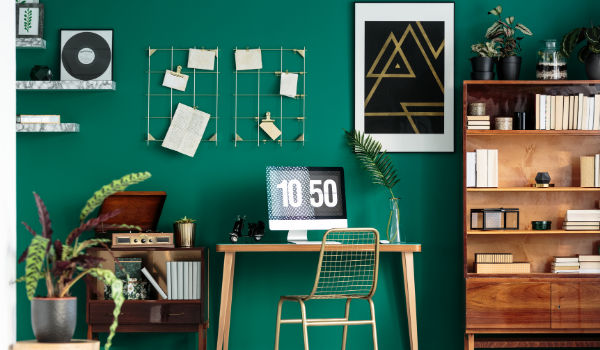 What Do You Need to Setup a Homeschool Classroom?
Setting up a homeschool classroom can be as simple or as elaborate as you would like. The key is to ensure that the learning environment includes everything that your children need for a successful learning experience. Some of the most common inclusions in a homeschool space include:
A learning space. The learning space you choose for your homeschool classroom will depend on several factors. It will depend on the size of your homeschool space, how many children you have, and the type of homeschooling you and your family participate in. Your entire homeschool learning space design will depend on these factors.
Work stations. Workstations are where the schoolwork will take place. Essentially, this is desk space. Perhaps you want desk space for each child or perhaps your ideal homeschool scenario involves them working together, and you want one or more tables where your children work in groups. Work stations can be built to spec to meet the needs of your homeschool classroom.
Bookshelves. Although library cards are a must-have for all homeschooling families, every homeschool space must have bookshelves. Whether they are used to store art supplies, textbooks, laptops, or other learning materials, shelves are essential to homeschooling organization. Depending on the size of your homeschool classroom - as well as how often you want to change its look and use - there are three basic styles of bookshelves for you to consider as a homeschool mom.

Built-in. With built-in bookshelves, you have a functional homeschooling organization specially designed for your space. It can be very helpful, since you know exactly what you want and need, and you can make the most of even the smallest spaces.
Floating shelves. These are shelves that are purchased or built and hung on the walls wherever you would like to put them. They are an excellent addition to built-in bookshelves since they allow you to add more storage space for art supplies or books.
Standing bookshelves. These can be are either built to measure or purchased for your learning environment. They can be tall or short and made from almost any material. One of the benefits of these types of bookshelves is that they can be very inexpensive for setting up a homeschool space. However, if they are inexpensive, you may find that you have to replace them within a few years. Purchased bookshelves are another great option if you design a homeschool classroom with built-in shelves because they allow you to add extra homeschooling organization space while controlling cost.

Dry-erase boards. Leave some wall space for a board, in which you can write and project images. Dry-erase boards may or may not be magnetic. Magnetic dry-erase boards are great, specifically if you have younger children or buy magnetic markers (so you don't misplace your markers!). Dry-erase boards come in many sizes. They can be used in small space homeschooling or in bigger learning environments. You can even purchase smaller dry erase boards to give to each child to practice math or handwriting assignments at their individual workstations.
Accessible electrical outlets. Whether you're setting up a homeschool classroom space in a larger room or a smaller room, you must have plenty of access to electrical outlets. Even if you are using more traditional teaching methods in your learning environment, an MP3 player, laptop, computer, lamp, laminator, printer, and pencil sharpener all require electricity. Ensuring that you have the right number of electrical outlets is important for electrical safety and convenience - no one likes to bend over and unplug something to plug something else in!
Storage. Classroom space of any size needs plenty of storage. Storage ideas may include under the desk space such as what is found in traditional classrooms, bookshelves (of course!), rolling carts for art supplies, built-in cabinets and drawers, or built-in cubby spaces with removable drawers. If you're a homeschool mom who also enjoys art or crafting, one way to gain inspiration on homeschool room ideas with plenty of storage is to consider crafting space ideas. Consider the layout of the space and whether you can change it for your homeschool space because of its potential for storage!
Table-top or counter space. No homeschool classroom would be complete without plenty of table-top or counter space. Whether you need the space to dry out artwork or a place to hold your printer and laminator, countertop space is essential. This space should be separate from the workstations used by your children.

Ages and Educational Needs: The Learning Environment
More important than homeschooling organization is how the ages and the educational needs of your children impact the design of the learning environment. If you have young children, it is important to recognize that your homeschool space needs to be able to change with you as your children grow and as their interests change. If you have more than one child, it is important that the classroom space can support their different educational needs and their ages. This is important particularly if you have neurodiversity within your family and also if your children are not close in age.
If you are small space homeschooling, you may need to consider homeschool classroom ideas that honor the interests and abilities of each of your children while also maximizing space. Work stations and storage will be essential. You will also want to consider themes or decorations that, while not plain, work well for everyone. If you have more advanced children and younger children, your advanced children may not feel inspired by younger themes, and your children focusing on more basic concepts may feel overwhelmed with more complex themes. However, you may also consider choosing specific walls or sections of the room for each specific interest or ability so that each child feels included.
Homeschool Classroom Ideas for Small Spaces
Ideas for small spaces depend on the same main factors as homeschooling in larger areas. How many children do you have? What are their interests? What are their abilities? Now, you have an added factor of working in a smaller space, but it's still something you manage (because as a homeschool mom, you know that setting up a homeschool learning environment doesn't mean that you have to be tethered to it; this is about freedom).
If you have younger children who are smaller, you can use workstations or desk spaces that are more suited to their size. If you're in a tiny home or dreaming of a tiny home, why not use the dining room table if necessary? You can also opt to sit comfortably together on the couch for reading time or for math or for any other subject. If the weather is nice, why not go outside?
Sometimes it is better to have a dedicated space. There are workspaces that can be built-in or purchased that fit just about any size area. You can also add bookshelves, counters, or organizational carts to help keep your classroom space organized.
One great idea that you can do is look on Pinterest for small crafting spaces. While crafting certainly isn't small space homeschooling, you'll find dozens of great ideas for small spaces that easily inspire you to develop small space homeschooling learning environments that work perfectly for your family.
Homeschool Classroom Ideas for Homeschooling Organizations
If you're part of a homeschooling organization, setting up a homeschool space may be a bit different for you. You may be more interested in designing a homeschool classroom that has the ability to change as your homeschool organization role changes. There is, of course, the need for adequate desk space and homeschooling organization. Desk space depends primarily on the number of students, and as time goes on, this may change. You know as a homeschooling parent that it includes, at the very least, your children, plus other relatives or neighbors. Are all of the students required to bring their own art supplies, for example, or are you required to have the supplies as well as house them? Talk with the homeschooling organization to get an idea of the average number of students you should plan to have in your homeschooling classroom, and design a flexible, modular space that can evolve with your needs.
The Importance of Dedicated Rooms for Homeschooling Classrooms
Setting up a dedicated learning environment is often crucial for successful homeschooling. While it is true that there is freedom in homeschooling, having a learning environment that isn't the dining room table (unless you're in a small space!) and that is its own dedicated classroom space can make a world of difference. A dedicated homeschool space helps minimize distractions, particularly if there are younger children who are not of school age, if the children finish their assignments at different times, or if anyone works from home. A dedicated homeschool space can also help keep educational supplies from getting lost since there is a place to keep them.
Bringing Your Homeschool Classroom Idea to Reality
As a homeschool mom, parent, or teacher you know just how important education and the learning environment is for your children. If you're ready to bring your homeschool classroom idea to reality, you may be thinking about how you can design the perfect learning environment as part of a new home. Turner & Son can help even if you're not sure where to start!
6 minute read