House Plans, Building Process, Custom Home, Home Design
A country home might be just what you need to help you create your ideal relaxing rural lifestyle. Whether your interests, hobbies, and desires focus on spending time riding recreational vehicles for fun or on a competitive basis, starting a hobby or full-size farm, starting a vegetable garden because you're interested in a more self-sustaining lifestyle, or you're just interested in getting away from it all, country style house plans can be designed to meet your needs and your interests.
To create a seamless transition into your ideal lifestyle, you only need to start by dreaming about your ideal outdoor living style or favorite vacation home. In this blog post, we're exploring dream country house plans & designs, relaxed rural country house plans, one story plans, and open floor plans for your new favorite living space!
Dream Country Style House Plans & Designs
Dream country style house plans & designs don't have to be placed on hundreds or thousands of acres (but if you're interested in large country homesteads with plenty of room for recreational vehicles, hunting on acreage, hobby farms, full-size farms, or self-sustaining gardening, your country style house plans can be built on as many acres as you own! If you don't own a lot of land, that's no problem, either - a relaxing rural lifestyle can still be created to meet your needs and your dreams. Some ideas for your country style house plans & designs include:
A classic or modern farmhouse-style country home with a wraparound porch.
A country house plan with a gabled roof.
A farmhouse or country style house plan with a spacious porch extending to an outdoor living area.
A country home plan featuring a walkout basement.
The key to creating country home plans that speak to you is to first list everything that is important to you both inside the home and outside of the home. For your indoor living space, what are the things that really matter? Your living space should be a space of relaxation for you, whether it is your vacation home or your everyday abode. A relaxing rural lifestyle involves your ability to create a seamless transition from the indoor living space to your outdoor living desires on your property.
It is important to think about not just the number of bedrooms and bathrooms, your kitchen style, entertaining needs, and interior decorating. Your home plans should also consider whether you want an open concept living space, a dedicated craft room or man cave, a storm cellar, or a walkout basement.

The type of roofing may also be an important consideration for your country home plan as well. Do you want traditional shingles? Are you interested in roofing that will last longer?
If you have farm animals (or plan to), recreational vehicles (or plan to), or want to start a big garden, you may also want to consider housing for animals, storage for recreational vehicles, and possible storage space for the fruits of your labor (see what we did there?) or plotting for your garden.
Relaxed Rural Country House Plans
Country house plans aren't always about self-sufficiency. Sometimes, it's just about creating a relaxing rural lifestyle. So, when you think about relaxation, what does that mean to you? What is it about country home plans or the country lifestyle that makes you relax? This is a highly personalized question, because we all have specific ideas related to relaxation. It also relates to both the indoor living space and your outdoor living ideals. For example, some people enjoy owning, caring for, and riding horses. If you're one of them, your outdoor living space may include space for at least one horse near your new country home. Some people may not want a horse. Instead, they may want to hunt and fish. They buy land that includes access to the river, a lake, or plenty of acreage for hunting. It may be their vacation home or where they decide to live forever.
Outdoor living spaces often include spacious porches that extend living areas, sometimes with an outdoor eating area. Often, the plans feature a wraparound porch with plenty of seating, lighting, and ceiling fans for family and friends to spend plenty of time together and make fantastic memories. If space is an issue, a cozy front porch will be a great place to sip iced tea and chat.
Indoor living spaces often boast fantastic kitchens and entertainment spaces to both bring happiness to those who love cooking and entertaining while also making the relaxed rural country home a great place for families and friends to get together for years to come. When designing your country home plan, you get to choose your floor plan as well as adding everything you want and need to make the space look and feel as you want it: rustic, modern, or a mix!
One Story Plans
Two-story country home plans are very popular, but they aren't for everyone. In fact, there are many benefits to a country home one story plan.
If your country home is your forever home, one story plans make it much easier to remain in your home as you age, because there are no stairs on the inside. However, you will need to consider your plans for your porch (at least as time goes on) as well as for your basement or storm cellar and perhaps for other parts of your property.
You'll have less noise because there is no one walking or stomping overhead! While the pitter-patter of little feet can be nice, it's not so great when they grow and start sounding like bowling balls dropping on the floor at all hours of the day and night!
One story plans provide you with more design options because you can choose higher ceilings, different lighting options (such as skylights), and more!
Unless you have a huge one story plan, you don't need a secondary HVAC system.
It makes it easier to expand your home (although you may still need to consider what could happen to your landscaping!).
Gutters, roofing, and other maintenance issues are often much easier for one story country homes.
Open Floor Plans
Open floor plans are very popular for country style house plans. An open floor plan takes the main living space, the dining area, and the kitchen and turns them into a communal area. There are fewer partition walls. An open floor plan for country style house plans is constructed by using heavy-duty beams instead of relying on interior load-bearing walls.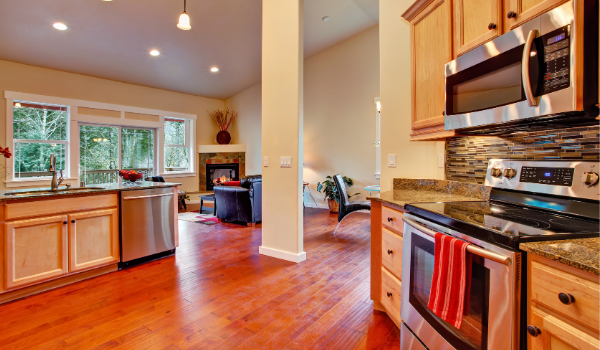 An open floor plan does not have to open up the living room, dining room, and kitchen. You can choose to use an open floor plan on just two rooms. Generally, an open floor plan is chosen if you want to make it easier to move in and out of rooms, have better lighting, improve the ability to communicate between rooms, make it easier to keep an eye on your children, or make the space multifunctional.
Start Designing Your Country Home Plans Now
If you're ready to start designing your country home plans, Turner & Son is here to help! From designing to building, Turner & Son is an all-service builder who is on your side and ready to help you bring your relaxing rural lifestyle to fruition.
4 minute read