Financing, Blog, Construction Loans
Getting a construction loan for building a new home on your lot or land can be a daunting task. Here are the top five pro tips for getting the right loan with the right terms for you.
1. Find a bank that's very familiar with construction lending.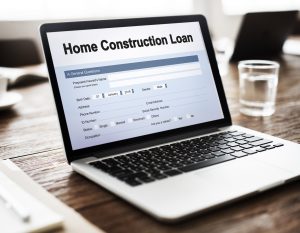 You can start by asking your local bank or the bank you're currently using for checking or savings. If they don't have a loan officer who does mostly construction loans, or if the loan officer can't clearly describe their process, then the bank probably doesn't do a lot of construction loans. That can be a headache down the line, plus their terms may not be very favorable.
To find the right bank, ask a few builders what bank they recommend or ask someone you know who has built on their land which bank they used. Ask the bankers to describe the construction loan process—what's the term (length of the loan), frequency of interest payments, typical interest rate, and their typical loan amount (meaning what percentage of the cost, or percentage of the appraised value, will they lend)?
2. Don't get hung up on shopping for the best interest rate.
First of all, the home building process shouldn't take more than about six months, unless you're building a complex home or one that's larger than 4500 square feet. You're not going to be borrowing the money for very long anyway, and the interest won't up to be a whole lot of money. In other words, a few tenths of a percent in rate won't make a noticeable difference.
3. Make sure the loan officer has an organized, efficient administrative assistant.
Many loan officers are really good at figuring out how to make a deal work, but not so good at handling the daily details. An administrative assistant helps with the day-to-day items, such as gathering and sending documents, taking client calls for information, and other things to keep the process moving.
Setting up a construction loan with all the associated disclosures, paperwork, signatures, and deadlines is a challenge for even the most organized person. You'll get really frustrated if your loan closing gets delayed (or doesn't happen) because the bank didn't ask for all the necessary information or prepare the right paperwork in a timely, organized fashion.
4. Find out whether the bank has a mortgage department or if they expect you to use an outside mortgage company.
If the bank has its own mortgage department, it's possible that your construction loan process will go more smoothly and that the rates or fees for your construction loan will be less. Why?
Honestly, there's not that much profit (and a whole lot of work) in a construction loan from the bank's perspective. If they can take care of the permanent mortgage for you as well, they feel like they're getting more for the work they're putting into the deal, which works in your favor.
5. Consider moving your savings or checking account to the bank you choose for your construction loan.
Banks need deposits in order to have the necessary financial reserves to keep the federal government happy. That's a big deal to a bank. If you can help them by depositing your money, it makes you a more attractive customer, which could help your approval process go more smoothly.
In 53 years of home building, we've helped our customers get literally hundreds of construction loans. Still, the banking industry evolves just like every other industry, and we're still learning new things. There are lots of things to consider, but hopefully this list of five pro tricks will help you get started.
Learn more about the overall journey of going from Raw Land to Forever Home by downloading our free guide below.
2 minute read