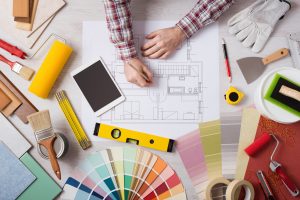 When you're searching for a builder to help you build your family's forever home, you'll probably see the word "custom" thrown out a lot.
It's easy to think that everyone means the same thing when they talk about custom homes, but I've found there are couple of very different ways that term is used.
Many builders will consider a home custom if they're building a home for one specific client, rather than building a home on speculation (building a home and hoping someone will come buy it). Even if they're building a home based on a design they've used dozens of times before, they're building it for one client who has already signed a contract with them.
A lot of builders use the word "custom" in the names of their companies for that very reason.
On the other hand, "custom" could mean that a home was designed specifically around your needs, wants, and budget—that means a design that's never been built before. To me, that's a more honest way to think about a custom home. It really is tailored to you and your family.
Most builders shy away from building homes that are that level of custom, even when they consider themselves "custom builders." Why? Most home building companies are very, very small. They don't have the capacity to do estimates, and if you throw them something they haven't seen before, that creates more work than they're used to doing per home.
Even some of the larger home building companies lack a key skill: accurate, detailed estimating.
Why is that important to you as a custom home client? It may not be.
But here's why that is often an important sticking point. A builder who isn't confident in his own estimated cost to build your home will probably push you toward a home design he's built before because he knows how much that house costs him to build
He might push you toward modifying an existing plan, and he'll definitely have "standard features" that you just have to have in your home—because he won't know how to take them out, re-estimate his costs, and give you the proper amount of monetary credit for them.
Or maybe he won't push you toward an existing plan, but he'll insist on building "cost-plus." Any extra costs in building the home will be in addition to the price you've already agreed upon, and it's you footing that bill as the homeowner. Alternatively, he may agree to build for a fixed price, but will include enough padding in that price to account for his estimating inaccuracies.
Either way, if he agrees to build a truly custom design (meaning a one-off home design created just for you), you're going to be paying for his uncertainty.
You can avoid those outcomes by asking potential builders how they will arrive at their budget for your new home. Ask about how precisely they estimate their costs. If a builder sounds vague or bases their estimates on a rule of thumb (like a dollar-per-square foot number), you can be sure he expects you to pay for his lack of precision.
2 minute read