House Plans, Building Process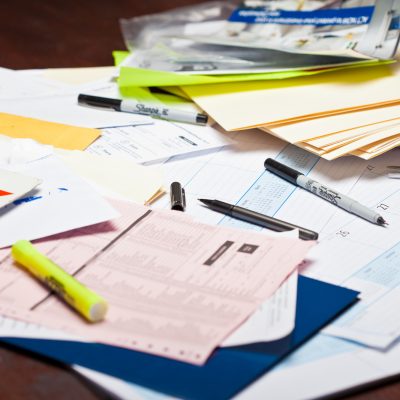 Worried your builder might be a bit disorganized? Is it that big of a deal?
This is one aspect of choosing your builder that often gets overlooked. Or sometimes we chalk disorganization up to someone who is just "creative." You want your builder to be creative, right?
Well, in the area of home design, certainly. But if that creativity means that they're flying by the seat of their pants when they schedule your home build, that's not ideal.
"Organized" may not be on your top ten list of important qualities for your home builder. But maybe it should be.
What happens when a disorganized builder starts building your forever home on your land—does the job stay on schedule? Do the subcontractors know what they're supposed to be doing? Does the job site look like a tornado just went through?
Every mistake, every wasted piece of material, every part of the project that has to be redone, and every schedule delay costs you money.
Even if your contract is fixed-price, the price will be artificially inflated if the builder is disorganized. They may not know the exact costs, won't have a strict schedule, and probably rely on a contractor base that charges extra because they know the schedule will be goofed up at some point.
So how do you know whether a builder is organized before you sign a contract?
There are a few things you can look for when you're trying to decide on a builder.
Check out their car or truck: are there a hundred rolled-up plans on the dashboard? That shows a lack of organization.
When you're talking to the builder, do they ask you to hold on while they answer the phone? If that's the case, then it's likely the builder spends their days putting out proverbial fires. You want someone who prevents those fires, not someone who runs around all day putting them out.
Does the builder write stuff down, or just listen and nod? I don't need to explain further on that one. I mean, you have a list of the stuff that's important in your home written down because it's important to you, right?
Is the builder about 5 to 10 minutes late to every meeting? That's a planning issue (or a respect issue). Either way, it's a small sign of a larger problem.
You get the idea. Building a custom home on your land is a huge undertaking, with thousands of tiny, but critical, details. It takes an organized builder to plan, schedule, and execute a project of this size and importance.
1 minute read