House Plans, Turner & Son
Never heard of a barndominium before? That's alright. I hadn't, either— until recently. It's a play on "barn" and "condominium" but the end result is more like a house than a condominium. They are growing in popularity, but that doesn't mean that they're right for everyone.
It's basically a metal building— not a pole barn— that has all the usual normal house things in it: plumbing, electricity, room divisions, pretty much whatever you want. It's customizable within the area of the metal building.
What are the Advantages of a Barndominium?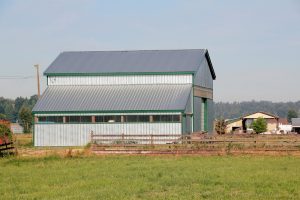 Since a barndominium is made of metal, you won't have to pay for roofing beyond the metal roof that comes with it (though the metal will likely dent with hail). You won't have to pay for bricking either, which is a positive factor for some people. Some people just like the look of it, which is a perfectly good reason to build one.
You can combine living space and shop space into one building, saving money if your overall plan is to build a house and a shop on your land. This is especially the case if your shop needs to be significantly larger than your typical 2 or 3 car garage.
I know a family who built their horse stable and indoor riding arena using a metal building, then built an apartment inside the metal building, so the large metal structure served both purposes. They lived in the apartment while their new home was being built just a few steps away.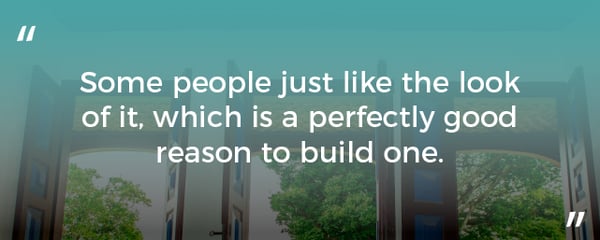 Why Metal?
The metal building is probably a good choice for your home if you're going to combine a large shop with your house and you like the look of a metal building on the outside. You can always cover the outside walls with brick (or siding if you want).
Many people just like the "barn" look you get with a rectangular building. It's also a good choice if the space you need will have a large roof span (a large distance from one supporting wall to the other, creating a huge open space with no obstacles - like a place to ride horses or store an airplane).
That said, a metal building built as a home is going to present a challenge during the appraisal. Banks are usually pretty open to financing a house, but not a metal building with a house in it. Banks that do loan money to build a barndominium will likely ask for a significantly larger down payment than for a wood-frame home (you might have to put down anywhere from 25 - 40%).
Shop Space vs. Living Space
There are some good choices in house plans for barndominiums, although the plans aren't as flexible as a wood frame house, just because you're somewhat constrained by the shape of the building (usually a rectangle). Here are some examples of metal building house plans from Texas Building Center.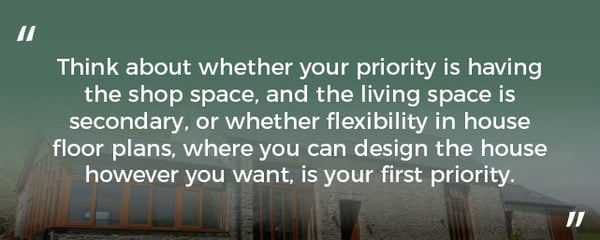 Think about whether your priority is having the shop space, and the living space is secondary, or whether flexibility in house floor plans, where you can design the house however you want, is your first priority.
When you build living space on the inside of the metal building, you're still building an actual house. If lowering the cost to build a house is a major factor, it's likely not going to be cheaper than a traditionally built house.
Typically, when we crunch the numbers, it turns out that the cost difference between building a traditional home and building a barndominium is minimal to nothing. What you save by replacing the brick with metal, you lose by installing a metal roof; the foundation, slab, plumbing, and other interior items cost the same as a regular house.
You'll still need to install wood-framed walls and ceilings to make up the interior rooms. Plumbing and electricity will still need to be installed, too, since you'll probably want bathrooms, a kitchen, and good lighting. Also, metal buildings often come as a kit; you'll essentially be a contractor and will need to hire subcontractors to complete the work.
Is a Barndominium Right For You?
After reading all of that, hopefully you're better equipped to decide between a metal building and a traditionally framed house, and you're one step closer to getting the home of your dreams. If your main motivation for a barndominum is budget, here are some resources that might help you figure out how to get the most house for your money.
For more info on turning that land you own into the site of your forever home, download our free guide From Raw Land to Forever Home.
3 minute read