Building Process, Turner & Son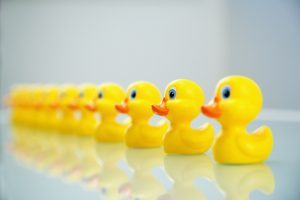 If you've ever built your own home, you know how much work is involved before the build can even begin. It's a daunting task. Most people working with builders in the area can feel isolated and alone when going through this process.
Often builders are looking for clients who already have their ducks in a row. They want clients who know where they're going to build and have financing in place. All the builder wants to do at that point is build them a house.
However, I'm learning that most people I meet with don't even know they need to have ducks, let alone how to get them in a row.
So, where do you start?
Well, you could start with the bank. But they don't like construction loans. They don't want your business, believe it or not. They're going to disqualify you. You're going to get deflated. The search for a new home could end for you right then.
Maybe you start by looking at land? But, do you know what you're looking for? There's a long list of questions that you should be asking about the land that you don't know to ask.
Here's where you start: with me! I don't care if you're two years away from building, come talk to me first. If you choose me as your builder, I will literally walk you through every step of the process and tell you what you need to do and when you need to do it so you're not overwhelmed and confused.
I'll also connect you with the right people. My rolodex is open for you. I'm interested in leveraging my expertise and my contacts to make your dreams become a reality. That's real. There's no facade there. That's why I'm on this plant: to help people.
For example, we just closed on a house for a couple who thought they had no chance at building their own home. We met with them two years ago when they had credit challenges. I got them in touch with a lender who put them through a credit repair process and we kept in touch. Nine months later they fixed their credit and we were ready to build! They also ended up needing ADA accessibility, which can be a challenge. We stayed with him through that whole process, too.
Another example, I have three families I've been working with who all got denials from the bank. Had they not talked to me first, they wouldn't be building. I tell everyone to come back to me if they get a no and I'll fix it for them. I'll get it done. If it can't be done, I'll put you on a path to get it done. That's really where we're different.
You can get a lot of bad information from lazy or inexperienced lenders, realtors, and builders. If you have someone in your corner who's done this a thousand times and who's willing to hustle for you, it makes a world of difference. You can literally go from thinking you'll never be able to afford to build your own home to living in it a year later – if you work with the right builder.
Contact me today at 285-2856 to see how I can help your dream become a reality.
2 minute read