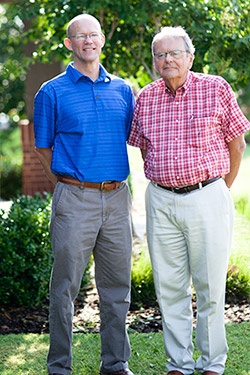 Experts say it takes 10,000 hours of practice to master a skill. And as often as people switch careers, it's becoming harder to find individuals who've had time to become experts at their craft.
Finding someone who's had far greater than 10,000 hours of practice and experience is even more uncommon, but we happen to know someone who fits the bill.
Ben Turner, the founder of Turner & Son Homes, started his home building career 50 years ago today.
50,000 hours
Ben began building homes in 1964. For over 20 years, he built his reputation as a reliable builder of high-quality, affordable homes, becoming a prominent figure in the central Oklahoma home building community.
After a brief period in the late 80s spent helping a local bank with several home building projects, Ben returned to his roots in 1990 when he launched First Star Homes, the company that would evolve into Turner & Son Homes.
Ben's first projects with First Star Homes started in Midwest City, then expanded over time to Edmond, and in recent years to communities throughout Central Oklahoma.
At a time when many builders were focused on cutting corners and compromising quality for speed, Ben bucked the trend and committed to efficiency instead of cheapness and building homes that can stand the test of time by taking a little extra time to build them the right way.
Family business
In 1999, Ben's son, Tim joined his father in the home building business and the Turner & Son Homes that exists today was born. Tim has taken on the role of CEO and carries on his father's tradition of paying attention to the details and making each home Turner & Son Homes builds special.
With Tim at the helm and Ben acting as Vice President, the company continues to grow and provide Central Oklahoma families with affordable, customized homes in both builder-owned communities and on customer-owned land – a rarity among Oklahoma home builders.
With a solid foundation underneath them, the Turner family is looking forward to the next 50 years of helping Oklahoma families build their dream homes.
1 minute read